Why Do You Need E-commerce Management Solutions?
E-commerce management — whether it's a new startup, a long-standing small business or a large, established brand — is complex. Online retailers must organize and monitor any number of moving pieces.
E-commerce integrations can be indispensable when it comes to process automation and back-office integration for a fully-aligned and efficient business.
Let's look at some of the specific advantages of an e-commerce management solution.
1. Keep customer data accurate
In an omni channel world, understanding your customers only at the channel level just won't cut it. For the most valuable customer data, you need a single view of the customer across lines of business. 
2. Maintain inventory levels
When you have multiple sales channels or warehouse locations, visibility of your inventory as a whole can be a challenge. If your systems aren't integrated, you may not be making the best use of your inventory or, worse, you risk overselling. Sync your inventory across channels and gain full visibility in real time to provide the best customer experience.
3. Help expand to other sales channels
With a singular view of your inventory, your customers, and even the results of your marketing and advertising efforts, you set yourself up to expand to other sales channels, whether through marketplaces like Amazon or social channels like Facebook and Instagram.
4. Reduce human error
Modern e-Commerce should handle not only B2C and B2B commerce,
but B2B2C (business-to-business-to-consumer), C2B (consumer-to-business), C2C (consumer-to-consumer), B2G (business-to-government) and others that are also catching up.
The following features are must-haves for e-Commerce systems — without them an online commerce solution makes no sense:
Product pages
Product catalogs
Shopping cart
Checkout
Inventory and order management system
Promotion system
Notifications
Marketing tools
Reporting and analytics
The more human intervention required by your systems, the more potential for error — and the greater tax on day-to-day productivity. That's why so many e-commerce operators choose to use a third-party integration to coordinate systems and automate data transfer.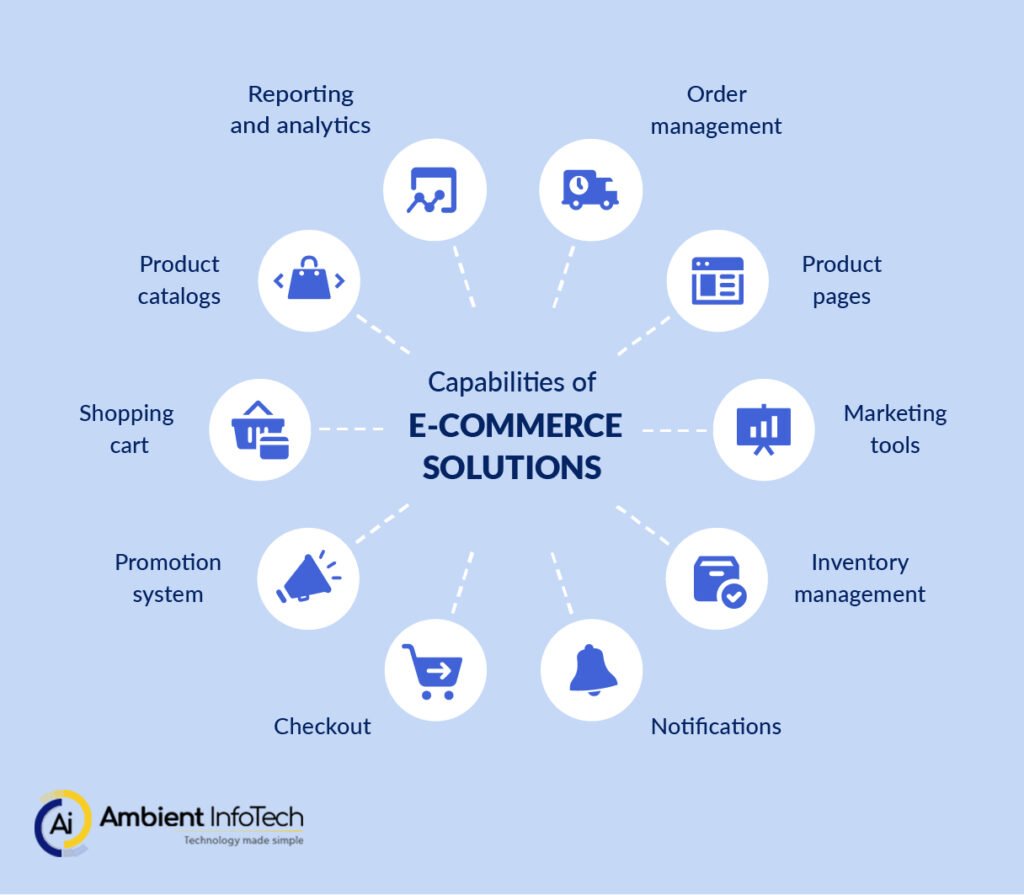 RECENT POST
"Very easy to deal with, job done very well, and in good time. I would definitely hire again. "
Nathan W.
Quality Realty Service
"better than expected, everyone need to work with a freelancer like this i recommend 1000%"
Tanyaluk K
Admissions director
"Great communication and excellent knowledge. I will work again with Ambient Infotech"
"What more can I say, I've have been very pleased with the work supplied. It was tricky in parts but I'm very satisfied with the work and the time it took to complete. I will be looking to hire them again in the future."
"Very skilled magento developer who knows how to tackle problems. Recommend him to anyone!"
Did a great and quick job again! Very good. I will work with them again. Highly recommended!
"Amazing Team. Very Patient and experienced. I would recommend them for all your IT related issues. They finished the project on time and i was outside states and did not release their payment even after the project was done but they waited very paitently and made sure that I was satisfied with the work. Thank You for the amazing work and I will definitely hire you for all the work in the future."
Gurpreet
Executive Director
"Working with Ambient is smooth and uncomplicated! Strong recommendation! "
"I can t find the right words to describe this Team. They are amazing! Always on time and enormous knowledge. If they bid on your job, accept without hesitation. "