Why is E-Commerce in so much demand?
As E-Commerce is the demand of present time, businesses, customers, and nations, in a few years time will become compulsory to use for any transaction.
E-Commerce basically means buy, sell and exchange products, services, and information through computers over the internet. On an E-Commerce platform, a person can deal with customers around the world. People perform buying and selling of goods and services over the internet network. Even payments can be made using credit cards. For its ease and simplicity E-Commerce has instantly become popular.
E-Commerce being the online buying and selling process is the primary reason behind the growth of Internet users. E-Commerce for the Internet is as important as a heart is for a body. A lot of reasons present for customers today prefer shopping online include convenience, price comparisons, no crowds at stores, no need for physical travel, and gifts to our loved ones that can send more easily. According to a report, This year, worldwide e-commerce sales will exceed $5 trillion for the first time, accounting for more than a fifth of overall retail sales. Despite slowing growth, total spending will surge past $7 trillion by 2025. The India's e-commerce market is expected to reach US$ 350 billion by 2030.
The difference between E-Commerce and commerce is the same as in email and mail. It is an electronic enhancement and a modernized solution to an old-fashioned process. If commerce is physical transaction of buying or selling goods, e-commerce is its electronic equivalent – selling and buying online. E-commerce represents the spirit of convenience due to the ease of transaction it brings along. E-commerce is an indirect product of web development. Developers create websites using formal computer languages – of which many sites are used exclusively for online transactions.
India is the second fastest growing economy in the world. In the last few years, Indian has developed radically. There has not only been economical development but the country has also become technologically advanced. In India, the year 1990 marked the year of science and technological advancement in the country. In the last two decades, the country has come a long way. Computer and internet have become available in almost every home. This has created a market for e-commerce in India. Also the consumers have become quite smart and are looking for ways which prove they can make profitable purchase. India is not only ready for e-commerce; e-commerce has already become quite popular in India too. Everything in fashion to food people spend their time on websites if they choose what brand they want or which restaurant ratings are good , first they search on google then decide where they want to go. Same as for clothing or electronic & media, home furniture to personal care everything they search and then bye. They visit websites of the company and select all necessary items.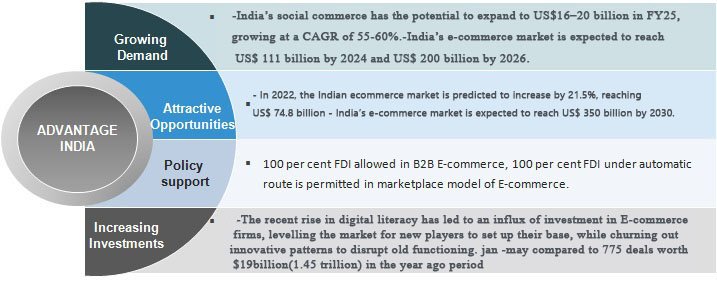 Digital payments in India will reach $10 trillion in value by 2026 from $3 trillion now, said a report on Thursday, forecasting that cash will increasingly be used less.
Digital payment (non-cash) will constitute two out of three payment transactions by 2026, said the Phonepe Pulse-BCG report called 'Digital payments in India: A $10 trillion opportunity'.
The report said the digital payments ecosystem has gained from the entry of multiple new players with diverse offerings driving digital payments adoption at scale. Global and Indian fintech players have been key drivers of UPI (Unified Payments Interface) adoption in India among end-users, aided by the build out of a large QR-code based merchant acceptance network. This is further supported by user-friendly interfaces, innovative offerings and an open API ecosystem.
With the emergence of IT, the concept of doing business has changed in today's competitive and technologically savvy world. Performing business strategically, tactically and successfully is quite essential meaning greater output at a lower cost. This is possible only through IT. The Internet offers business artificial or virtual space, thus saving the space rent, transportation cost and hence cutting on the cost of the products. An e-commerce system provides real-time data and analytics about products and customers. Exploring how people interact with the site, what products interest them, what they left in their cart and how much was the average purchase. Such valuable statistics allow businesses to make adjustments to meet customer's needs.



RECENT POST
"Very easy to deal with, job done very well, and in good time. I would definitely hire again. "
Nathan W.
Quality Realty Service
"better than expected, everyone need to work with a freelancer like this i recommend 1000%"
Tanyaluk K
Admissions director
"Great communication and excellent knowledge. I will work again with Ambient Infotech"
"What more can I say, I've have been very pleased with the work supplied. It was tricky in parts but I'm very satisfied with the work and the time it took to complete. I will be looking to hire them again in the future."
"Very skilled magento developer who knows how to tackle problems. Recommend him to anyone!"
Did a great and quick job again! Very good. I will work with them again. Highly recommended!
"Amazing Team. Very Patient and experienced. I would recommend them for all your IT related issues. They finished the project on time and i was outside states and did not release their payment even after the project was done but they waited very paitently and made sure that I was satisfied with the work. Thank You for the amazing work and I will definitely hire you for all the work in the future."
Gurpreet
Executive Director
"Working with Ambient is smooth and uncomplicated! Strong recommendation! "
"I can t find the right words to describe this Team. They are amazing! Always on time and enormous knowledge. If they bid on your job, accept without hesitation. "