Will SEO ever take over the world?
Every internet business' success depends on SEO (search engine optimization).
There are many websites in this cutthroat market, and the SEO method is used to optimize websites' technical settings, content relevance, and link popularity so that pages can be readily found, more relevant to user search queries, and popular with users, improving their rank.
There are various justifications for including SEO in your marketing plan.
1. Become a recognized expert in your field.
2. Drive more visitors to your website
3. Speak to your target audience early in the purchasing process.
4. Free marketing for your small company.
To rank higher and reach more ideal buyers, use these three straightforward SEO strategies.
1. List the important works of interest.
2. Improve user encounter
3. Establish your off-page SEO plan.
Marketing professionals will need to work together, be creative, and adopt new ideas in order to develop long-term SEO strategies that can:
• Improve media operations. increase organic website visitors.
In the future, SEO
Since the SEO algorithm is continually evolving, SEO has a broad application. It takes years to fully comprehend SEO's features.
There are some predictions about SEO
1. SEO will understand just what you're looking for.
2. Accelerated mobile pages (AMP) will place your website ahead of the competition.
3. The user experience will be the deciding factor.
4. Voice search represents the pinnacle of SEO.
5. SEO in conjunction with Artificial Intelligence (AI)
1. SEO will understand just what you're looking for.
The days of typing keywords to find content is coming to an end. In the coming years, search engines will be able to automatically detect what you are looking for thanks to artificial intelligence, the internet, and other smart technology.
Nowadays, every electronic device is linked to every other electronic device; it will analyze your purchasing habits, browsing habits, the type of content you prefer, and possibly other information about you. In the future, you will not need to visit 10 to 15 websites; instead, it will show you content that you are specifically looking for. This will be possible with features such as XML site mapping structure data markup labeling voice compatible data search, and so on.
2. Accelerated mobile pages (AMP) will place your website ahead of the competition.
Previously, a Search engine only considered desktop-optimized websites as a ranking factor. However, the search engine will treat mobile and desktop pages as separate indexing factors in the future.
Google's priority list will include mobile indexing.
In today's world, mobile users outnumber desktop users, which is why every search engine focuses on mobile optimization through the use of mobile accelerated pages.
3. The user experience will be the deciding factor.:
Because search engines profit from web traffic, they are concerned with user experience (UX)
The search engine has successfully customized the user experience in order to attract more web traffic. You should concentrate on developing customer-engaging content because no matter how good your content is if it is not user-engaging, the user will leave your website.
You must understand how visitors interact with web content. There are free tools available to view all visitor browsing patterns, such as Google Trends and Google Search Console.
These tools assist you not only in calculating visitor patterns but also in tracking other customized pages.
4 Voice search represents the pinnacle of SEO.
Apple has Siri, Amazon has Alexa, and Google has also launched a navigation application called Google Assistant. But the day will come when Google will answer all of your questions based on voice searches. Google may request that websites format their page titles as questions, with answers delivered in short paragraphs that include voice and text display. Google has already begun to take the initiative through Google Direct. After browsing the most relevant content, it answers the majority of your questions and places that content above all search results in SERPs.
Advantage of SEO
The phrase SEO (search engine optimization) is used to drive increasing numbers of visitors to your website. It's just as crucial as creating a quality site in the first place, and if you execute it effectively, you'll see a speedy return on your investment. Search engine optimization is crucial in the world of digital marketing. Without using search engine optimization techniques most websites would not be able to get high rankings in search results.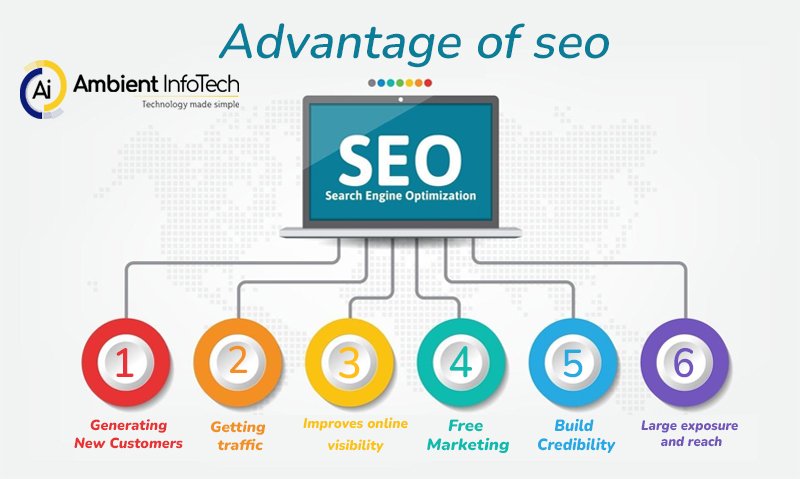 1. To find your website easily
It doesn't matter what kind of website you have—whether it's an e-commerce site, a business website, a website that sells goods, or something else entirely. However, nothing can be done unless your website receives a lot of traffic. Only SEO can assist you to improve your listing's position in the search results and increase website accessibility.
2. Set yourself out from the competition
Most people are aware of the numerous websites that are active on search engines. Everyone strives to have their website appear higher in search results. Only SEO will be able to make it happen. This mindset is probably shared by your colleagues, therefore if you act appropriately, you may be able to surpass the opposition in your industry and take the top rank.
3. To rank highly in searches
Making appropriate keyword title tags and Meta descriptions is a critical component of SEO because they appear in the result pages. Your website must obtain a majority of impressions and clicks in order to rank highly in these top locations on search engine result pages. As more and more people visit your site, the higher your page ranking will be in these top positions.
4. Increased traffic to your website
Your website has the ability to reach hundreds of millions or perhaps billions of people when search engine optimization strategies are used, which truly opens up a world of possibilities for you.
5. No-cost website visitors
When you produce content online and use SEO best practices, it remains online in perpetuity like indelible ink from a fountain pen, unlike sponsored advertising. There isn't any fee. There is no cutoff point. Your website might continue to bring in new visitors indefinitely with regular upkeep and improvements.
6. Assisting in acquiring new clients
SEO (search engine optimization), which is a crucial component of marketing your company, may also be useful for attracting new customers or establishing online connections with them.
RECENT POST
"Very easy to deal with, job done very well, and in good time. I would definitely hire again. "
Nathan W.
Quality Realty Service
"better than expected, everyone need to work with a freelancer like this i recommend 1000%"
Tanyaluk K
Admissions director
"Great communication and excellent knowledge. I will work again with Ambient Infotech"
"What more can I say, I've have been very pleased with the work supplied. It was tricky in parts but I'm very satisfied with the work and the time it took to complete. I will be looking to hire them again in the future."
"Very skilled magento developer who knows how to tackle problems. Recommend him to anyone!"
Did a great and quick job again! Very good. I will work with them again. Highly recommended!
"Amazing Team. Very Patient and experienced. I would recommend them for all your IT related issues. They finished the project on time and i was outside states and did not release their payment even after the project was done but they waited very paitently and made sure that I was satisfied with the work. Thank You for the amazing work and I will definitely hire you for all the work in the future."
Gurpreet
Executive Director
"Working with Ambient is smooth and uncomplicated! Strong recommendation! "
"I can t find the right words to describe this Team. They are amazing! Always on time and enormous knowledge. If they bid on your job, accept without hesitation. "